Cuthbert's Club!- Extended Provision
Cuthbert's Club is a safe, happy and welcoming place offering fun activities for all children in EYFS- Year 6, both before and after school.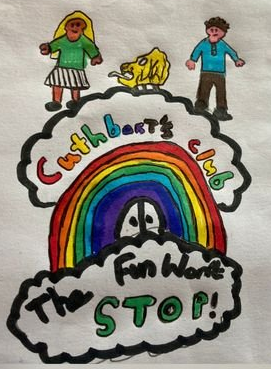 Breakfast club
Before school

Arrival after 8am still incurs the £4.50 cost.

Breakfast will stop being served at 8:20am to allow for eating time and tidying away.

Times

7:30am- 9am

8am-9am

Prices

£6.75

£4.50
Breakfast is informal, the children are encouraged to enjoy a healthy breakfast and will have the opportunity to try new things. Below is a sample of our healthy menu options.
Various cereals, porridge, boiled, poached, scrambled eggs, beans-on-toast, pancakes, fresh fruit such as melon, bananas, apples, kiwi, strawberries, pears, natural yoghurt, milk, juice and water to drink.
After school Care
After school

Times

3.30pm- 6pm

4:30pm- 6pm (following school/ Metcalf club)

4:30pm- 5:30pm (following school/Metcalf club)

3.30pm-4.30pm

3.30- 5.00pm

3.30pm-5.30pm

Collection can be made from any Metcalf sports club based in school. Payments for Metcalf clubs to be made directly to Metcalf sports.

Prices

£11.25

£6.75

£4.50

£4.50

£6.75

£9.00
We would like to emphasise that our healthy snacks are small portions and designed to 'bridge the gap' between the end of the school day and an evening meal. These are some of the healthy snacks on our menu;
Sandwiches, wraps or rolls with tuna, cheese, ham hot dogs, salad or beans on toast,
Cheesy or tomato pasta,
Fresh fruit, yoghurt, jelly, bananas and custard,
Juice or water to drink
Other information
Monday - Friday , Term time only
Run by experienced child care professionals
Sibling discount of 10% and reduced rates for children in receipt of pupil premium.
Activities offered are many and varied in a safe and spacious environment
Regular,occasional or last minute bookings
Please contact St Cuthbert's main office for initial enquires